Test X180 Review
According to the official Force Factor website, "The experts at Force Factor® carefully formulated Test X180 to provide the boost that every man needs" and it does this because "Each serving of Test X180 contains clinically researched levels of Testosfen®, the proven, natural fenugreek seed extract that has been shown to help men add pounds of hard, sculpted muscle to their bodies." Eventhough Test X180 does contain Tribulus Terrestris it looks like Force Factor has a lot riding on Testofen and their "clinical" studies. Testofen has come under heavy fire for over-stating claims and under-performing for consumers. We decided to send Test X180 to a lab to see how well this product would be able to meet all of their claims.
Test X180 Ingredients
Test X180 contains Vitamin D, Vitamin B6, Vitamin B12, Testofen, Siberian Ginseng, Panex Ginseng, Cordyceps Sinensis and Tribulus Terrestris. Every single one of the claims on their website centers around the "claims" purported by the makers of the patented Fenugreek extract Testofen and also the Tribulus Terrestris. The claims and "clinical studies" surrounding Testofen appear to be nothing short of miraculous, but does Testofen really work? Also, we want to take a look and see how much of the tesosterone boosting protodioscin, the active compound of Tribulus, is found in Test X180.
Testofen
Testofen is a product derived from fenugreek seeds. According to at least one Testofen lawsuit, multiple studies have suggested that fenugreek has no discernable influence on low-t, and was actually outperformed by a placebo in one trial conducted in India. Gencor Nutrients, which manufacturers Testofen, stands behind the efficacy and safety of their product and says they will defend all allegations.
GNC was also named in the Testofen lawsuit. According to the GNC supplement lawsuit, several independent scientific studies have been done to test the actual efficacy of GNC's herbal products. The idea that the supplements are effective was shot down by those involved in the studies: "These representations are false, based on universally accepted principles of statistical analysis that have been adopted by the regulatory bodies of every 'first world' country, including the United States." There is additional evidence suggesting that GNC and its subsidiaries were aware that they had overstated the efficacy of their herbal product in order to boost sales.
Despite four studies since 2006 that demonstrated the lack of statistically significant results by Testofen consumers, the plaintiffs allege that GNC has continued to market its fenugreek-based products under 20 separate brand names.
Tribulus Terrestris
Tribulus is an herb, but it varies from species to species. Just like how wines produced from the same species of grape but grown in different parts of the world will differ, perhaps significantly, all Tribulus herbs/products can't be assumed to be identical.
In this case, protodioscin concentration – which basically tells you how powerful the Tribulus may be – depends on where in the world it was harvested, and what part of the plant was used. The highest concentrations tend to come from Turkey, Macedonia and Bulgaria. Materials from India, China and Vietnam have reported significantly lower concentrations.
How Much Protodioscin Do You Need?
If Tribulus works, its effects appear to be dose-specific. In other words, the delivery of active protodioscin seems to be effective if you take the right amount. Too little and it doesn't appear to work. The sweet spot seems to be consuming enough Tribulus so you get at least 4 milligrams of protodioscin per pound of bodyweight per day. The issue is every supplement company, like the makers of TestX180 know that Tribulus is the most important compound in supplements. It's not an issue if company's use the correct dosage. Unfortunately most companies just use a token amount of Tribulus to keep costs down and just use other "filler" ingredients. So, how much protodioscins does Test X180 really contain? Let's take a look at the Test X180 Lab Analysis.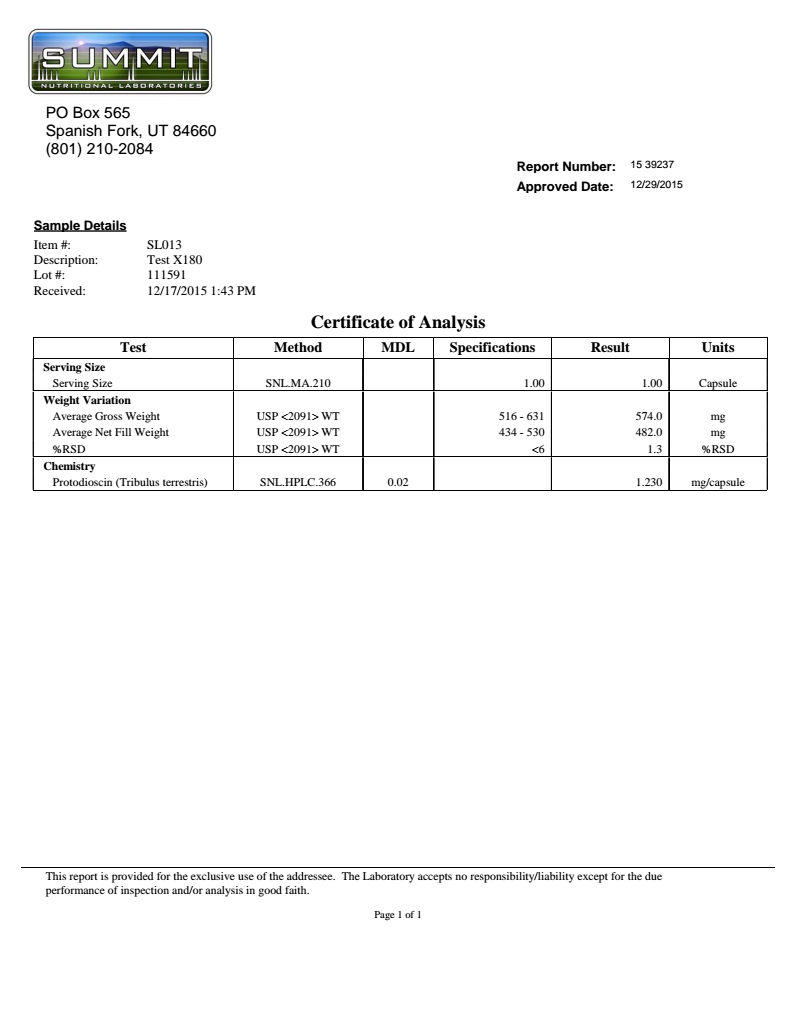 So, Will Test X180 Really Work?
If you take a look at the Lab Analysis, Nugenix contains a measly 1.230mg of Protodioscin per capsule! That's hardly enough to do anything. Also, when we heard about this class action lawsuit against Testofen for RICO and fraud we were floored. There are tons of products that use Testofen as their primary ingredients based solely off of Testofen's purportedly fake clinical studies. I went to the Testofen website to read these studies. Unfortunately, or perhaps conveniently, there is no documentation on these "clinical studies".
Final Thoughts on Test X180
Grade: C- If you look at the two primary ingredients, Testofen and Tribulus, there is a lot of uncertainty surrounding the effectiveness of Test X180. Testofen might be a totally bogus ingredient. Take that out and you still have Tribulus. BUT the tribulus used in Test X180 only contains a miniscule amount of Protodioscin per capsule! For how much this product costs I would expect it to be loaded with a high quality Tribulus. I guess having huge margins is too hard to pass on. Well, I would definitely pass on Nugenix.I recommend checking out the lab reports on our "Top Rated" supplements. They are the ones that contain the most effective compounds available.
Order today