Testokor Review
Testokor by Genkor is a supplement that contains a formula unique ingredients designed to support low-t, enhanced libido, strength and muscle growth. We decided to send Testokor to a lab to see what the tribulus content really was.You'll be shocked what the lab reports found!
Testokor Ingredients
Testokor contains Zinc, Magnesium, Fenugreek, Horny Goat Weed, Rhodiola Rosea, Maca, Pygeum Africanum, Saw Palmetto, Eurycoma Longifolia, Tribulus Terrestris, 20-Hydroxy Ecdysterone, Muria Puama and Red Clover Extract. A lot of these ingredients are common in male sexual performance enhancers, but the later ingredients are in here specifically to support low-t. The primary ingredient we want to focus on is Tribulus Terrestris.
Tribulus Terrestris
Tribulus is an herb, but it varies from species to species. Just like how wines produced from the same species of grape but grown in different parts of the world will differ, perhaps significantly, all Tribulus herbs/products can't be assumed to be identical.
In this case, protodioscin concentration – which basically tells you how powerful the Tribulus may be – depends on where in the world it was harvested, and what part of the plant was used. The highest concentrations tend to come from Turkey, Macedonia and Bulgaria. Materials from India, China and Vietnam have reported significantly lower concentrations.
How Much Protodioscin Do You Need?
If Tribulus works, its effects appear to be dose-specific. In other words, the delivery of active protodioscin seems to be effective if you take the right amount. Too little and it doesn't appear to work. The sweet spot seems to be consuming enough Tribulus so you get at least 4 milligrams of protodioscin per pound of bodyweight per day. The issue is every supplement company, like the makers of Testokor know that Tribulus is the most important compound in supplements. It's not an issue if company's use the correct dosage. Unfortunately most companies just use a token amount of Tribulus to keep costs down and just use other "filler" ingredients. So, how much protodioscins does Testokor really contain?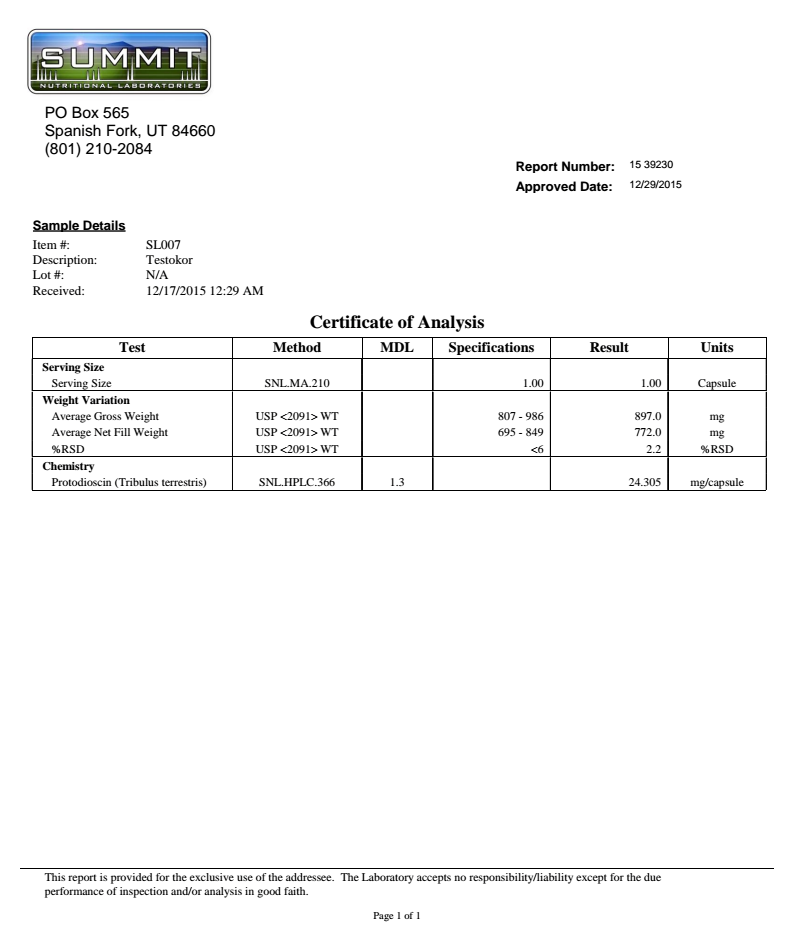 So, Will Testokor Really Work?
When we got the lab reports back for Testokorwe were shocked! In their 700mg KorAnabolic Blend they use a Tribulus that's standardized to 40% Protodioscin. Our official labs reports show that Testokor contains 24.305mg of protodioscin per serving! This is a lot better than many of the other so-called supplements out there! When it comes to these types of supplements, we definitely like to see more Protodioscin, but this product looks really good!
Final Thoughts on Testokor
Grade: B-. Testokor contains a surprising amount of the protodioscin found in Tribulus. It contains other effective ingredients to improvde sexual performance as well. If you are looking for the best supplement, I recommend checking out the lab reports on our "Top Rated" supplements. They are the ones that contain the most effective ingredients available.