Vitali-T-Aid Review
Vitali-T-Aid "is a solution … helping to increase libido and promote muscle health naturally." We have sent Vitali-T-Aid to one of the most reputable testing facilities in the country to see if it will really work like it claims. You'll be shocked what our lab reports discovered!
Vitali-T-Aid Ingredients
Vitali-T-Aid contains 600mg of Testofen Fenugreek Extract and a 100mg proprietary blend of Saw Palmetto, Astragalus Root, Phytosterol, Asian Ginseng, Tribulus and L-Arginine. Every single one of the claims on their website circles around the "claims" purported by the makers of the patented Fenugreek extract Testofen. The claims and "clinical studies" surrounding Testofen were nothing short of miraculous.
What is Testofen?
Testofen is a product derived from fenugreek seeds. But according to at least one Testofen lawsuit, multiple studies have suggested that fenugreek has no discernable effect, and was actually outperformed by a placebo in one trial conducted in India. Gencor Nutrients, which manufacturers Testofen, stands behind the efficacy and safety of their product and says they will defend all allegations.
GNC was also named in the Testofen lawsuit. According to the GNC supplement lawsuit, several independent scientific studies have been done to test the actual efficacy of GNC's herbal products. The idea that the supplements are effective was shot down by those involved in the studies: "These representations are false, based on universally accepted principles of statistical analysis that have been adopted by the regulatory bodies of every 'first world' country, including the United States." There is additional evidence suggesting that GNC and its subsidiaries were aware that they had overstated the efficacy of their herbal product in order to boost sales.
Despite four studies since 2006 that demonstrated the lack of statistically significant increase by Testofen consumers, the plaintiffs allege that GNC has continued to market its fenugreek-based products under 20 separate brand names.
So, Will Vitali-T-Aid Really Work?
When we heard about this class action lawsuit against Testofen for RICO and fraud we were floored. There are tons of products that use Testofen as their primary ingredients based solely off of Testofen's purportedly fake clinical studies. I went to the Testofen website to read these studies. Unfortunately, or perhaps conveniently, there is no documentation on these "clinical studies".
My guess is that GNC, Gencor (the makers of Testofen) and all parties named in this suit will fight it tooth and nail. There is A LOT of money at stake for these companies. With all of the allegations surrounding Testofen as a legitimate ingredient, I would steer clear of any product containing Testofen until the dust settles on this lawsuit. Your money is better spent on a product that contains a high quality Tribulus Terrestris extract, which has been proven to work.
If you pull out Testofen, Vitali-T-Aid is a pretty good men's health supplement. There is nothing else the formula that will support low-t. We sent this to a lab to see how much Protodioscin, the compound in Tribulus, is contained in Vitali-T-Aid. We were shocked, but not surprised to find that it only contains 1.673mg per capsule. The average male needs about 40mg per day in order to see any effect. Here is that lab report: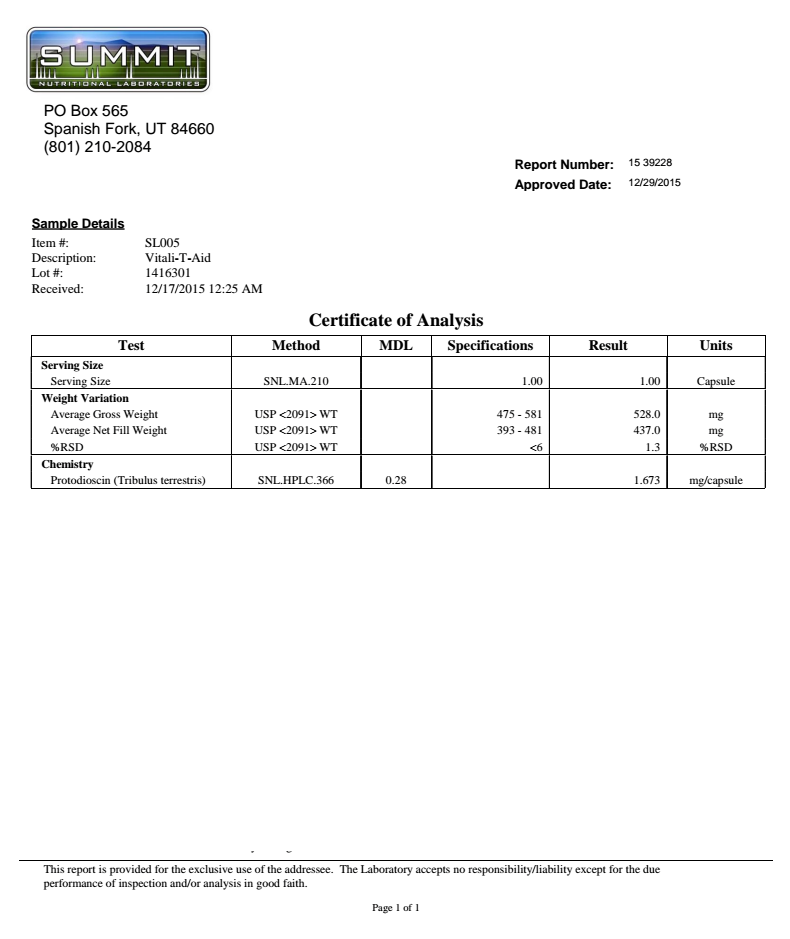 Final Thoughts on Vitali-T-Aid
Grade: C+. Vitali-T-Aid contains the highly suspect ingredient Testofen and a token amount of Tribulus, but it also contains some other ingredients that have been shown to benefit men's health . Will it work as promised? Is it too much of a risk to throw your money at this product? Like I mentioned earlier, I would hesitate to purchase any product that contains Testofen, escpecially a product like Vitali-T-Aid whose primary ingredient is Testofen. I recommend checking out the lab reports on our "Top Rated" supplements. They are the ones that contain the most effective compounds available.